After retiring from IndyCar, GoDaddy girl and professional racecar driver Danica Patrick will participate in a tribute to Dan Wheldon, who was killed in an IndyCar crash several weeks ago.
Reposted from ESPN.com
Danica Patrick to drive tribute car
By Terry Blount
ESPN.com
FORT WORTH, Texas — Danica Patrick said Friday she is glad to have a "roof over her head" this weekend in a Nationwide Series car, two weeks after the tragic death of IndyCar driver Dan Wheldon in a race at Las Vegas.
[+] Enlarge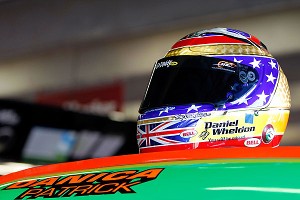 Jonathan Ferrey/Getty ImagesDanica Patrick will wear this helmet in Saturday's Nationwide race as a tribute to Dan Wheldon — her first race since Wheldon's death on Oct. 16.
"It does feel safer," she said. "It felt safer two years ago when I first got in a Nationwide car. Accidents still happen, but not a lot of serious head injuries. Having my head covered definitely adds a level of comfort."
Patrick was racing in her final IndyCar event as a full-time driver when Wheldon was killed in a terrifying multicar accident early in the race. She is moving full-time to NASCAR in 2012.
"It was nice to have a couple of weeks off and create some space between those emotions and getting back on the track," Patrick said. "It's a tragedy and it's terrible, but hopefully everyone can learn from it and be safer from it."
Patrick is driving a Wheldon tribute car this weekend in the Nationwide Series race at Texas Motor Speedway Saturday. The No. 7 Chevy has Wheldon's lionheart symbol on it.
Patrick is donating her prize money to a trust fund established for Wheldon's family. She also will wear a Wheldon tribute helmet, which will be auctioned off and the money given to the family.
Bumpier Ride For Patrick?

As she moves full time to NASCAR, Danica Patrick faces trickier cars, rougher racing and a longer, hotter season. It all starts Saturday in Texas. Story
She said her decision to switch to NASCAR had nothing to do with the safety aspect of the cars.
"No, my decision was a result of a sponsor [GoDaddy.com] being willing to go with me," she said. "After that, it was where I had the most fun racing, and I have the most fun racing these cars."
Patrick was asked where she thought IndyCar racing was heading in light of the death of Wheldon.
"I don't have to think about it anymore," she said. "They still have great race cars, great events and the Indy 500. Those things still exist.
"But I don't really have an answer and I don't think about it. I'm all in here [with NASCAR] and these are my thoughts and my focus. I told people when I left [IndyCar] I'll be watching, and I'm sure sometimes I will wish I was out there because it looks fun."
Wheldon's death was the second time Patrick has dealt with a driver being killed. Paul Dana was killed in a warm-up accident at Homestead-Miami Speedway in 2006.
Patrick did not race that day because Dana was her teammate at Rahal-Letterman Racing. The Vegas race last month was canceled two hours after the accident.
"They came in [a drivers' meeting] and told us Dan had passed away," Patrick said. "We discussed what to do. It was very complicated, but Randy Bernard (IndyCar's CEO) came in and said, 'You guys can't think straight. You're going to do a five-lap tribute and not run today.'
"It probably was true. We couldn't think straight. We were very emotional and it was the right thing to do."
Patrick said the Wheldon tragedy will not affect her decision about possibly competing in the Indy 500 next year, if the opportunity is right.
"I'd love to," she said. "It's the greatest race in the world and I still have memories I want to create there."
Terry Blount is a senior writer for ESPN.com.